Quickbooks Online Accounts
Quickbooks Online is an accounting system to rival Xero. Cloud-based it is available to you, your accountant and your bookkeeper anytime and anywhere that you have internet access. It has an impressive free App too which will put you in control of your invoicing and your customer debts.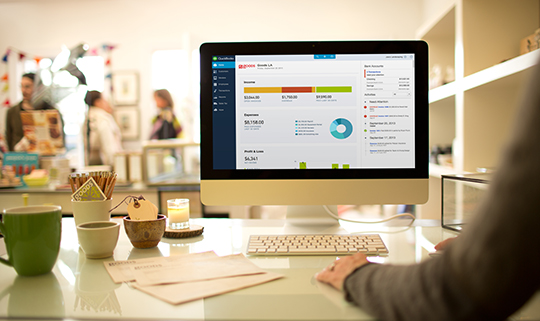 Quickbooks Online has a great dashboard showing you the state of your business on a single screen. Red will warn your of overdue customer invoices so you can see at a glance how much you are owed and drilling down into that red bar will show you which customers owe you and for which invoices.
Bank transactions automatically appear in the accounts when you have connected with your bank and you just need to allocate them to keep your accounts up to date.
Access to Quickbooks Online is by monthly subscription - no heavy outlay for desktop software and reliable daily backups so no worries about losing your data.
We have been so impressed with Quickbooks Online and its potential that we are already a silver partner and therefore can offer our customers discounted monthly subscriptions.
What do we love most about Quickbooks Online?
Anytime, anywhere access
The free App
UK based telephone support
The reporting which is easily manipulated
Bank feeds which saves so much time
The coloured dashboard giving you an instant picture of your business
Creating an invoice template exactly as you want it
Creating estimates in the software which can be converted to invoices
Standard Pricing
| | | |
| --- | --- | --- |
| Package | Quickbooks Price | Our Price |
| Self Employed | £6.00 per month | N/A |
| Essentials | £15.00 per month | £10.00 per month |
| Plus | £25.00 per month | £17.50 per month |
If you would like to try Quickbooks Online for your accounts and need some help getting started give us a call. We will set up your accounts and give you some training so you can do it yourself.
But if you don't want to do it yourself but like the idea of having your accounts available anytime anywhere we can keep your accounts up to date for you.
Contact us on 01722 341820 or email us and find out how our partnership with Quickbooks Online can benefit your business.