For the last week our team have enjoyed the company of a sixth form student on work experience. Rosie is considering accountancy as a career and wanted to experience the type of work involved. Whilst we are not accountants we are responsible for keeping the accounts records before they are passed to an accountant so our work was a good insight to the foundations of accountancy. This was a completely new experience for us so our bookkeepers planned carefully the things that they thought would be useful for her to see and do.
I asked Rosie to put a few words together about her experience as not only would it be valuable for her to reflect on how she found it but also for us to see if we have given her a suitable experience. These are her words which give a small taste of what she had experience of during her week.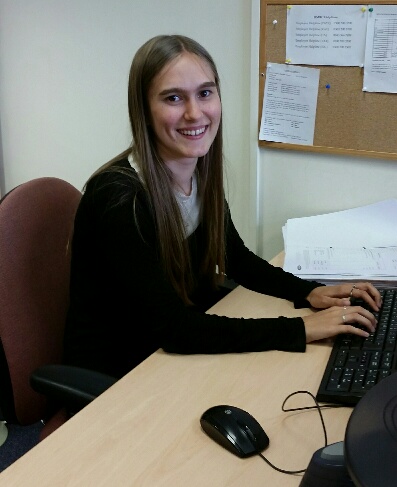 Having just had a week's work experience at Sandra Silk Bookkeeping, I have learnt many valuable lessons about what it's like to be a bookkeeper, and also how to conduct myself in an office environment.
I'm currently at the end of my first year of sixth form and I feel that this has been a perfect time to carry out some work experience, especially when I reflect back to the work experience I completed when I was 15 years old. As this week is later on in my development I have been able to choose an experience much closer to what I want to do as a career therefore enabling me to see that this is indeed roughly what I want to do. I would recommend to anyone doing work experience to do it at the age I am currently as it is a good indicator as to whether you are making the right choices when it comes to university, apprenticeships or going straight to work after A Levels.
I didn't really know what to expect when I walked in on the first day. I didn't know whether I would enjoy myself or if I would be very bored and wishing I was somewhere else. However, I have really enjoyed myself and haven't been bored at any point as I have been busy doing something constantly which I feel is a very good thing. Also, I know I'm going to take away many valuable experiences from my week here as I have learnt many new things about what it's like to be a bookkeeper, and how to manage and work a nine to five day as this was the first time I had properly done this in an office.
Throughout the week, I have learnt many things about what it's like to be a bookkeeper by working with several bookkeepers to use the different softwares available and can understand how to deal with the accounts of different businesses depending on the field they operate in.
During the week, I worked on accounts on Sage 50, Xero, and QuickBooks Online. At the beginning, I found switching between them to be relatively difficult as they are similar in some ways, but entirely different in others. However, as the week progressed I started to understand where all the different options were within them and how the particular software I was working on at the time liked the date to be entered! This was one of the biggest challenges as each one accepted it in a different format, which I know is only a small problem in the grand scheme of things.
On each software the tasks I carried out were similar as many companies need their VAT returns to be completed at this time of the month and their banks to be reconciled. I found that one of my favourite parts of this was the detective work where I had to look for either the invoice having already been input onto the software, the money going out of the bank feed, or possibly adding it from scratch myself. I also generally enjoyed inputting data such as invoices, till receipts and cash payments as I found it very satisfying seeing everything come together to match what is expected at the end. My favourite softwares to use were definitely Xero and QuickBooks Online as I found them to be much easier to use as a complete beginner.
I also listened to a Webinar about Community Interest Companies who operate to provide a service to a community but are not a charity. I found this to be quite interesting as I didn't know this type of company existed. I thought that the large majority of companies were either operating to make a profit or as a charity. It also helped me to understand and realise how the different VAT codes had to be thought about carefully depending on the type of company as well as the actual product. The only part of this exercise that I didn't enjoy was the other people listening asking repeat questions at the end!
There was also lots of paperwork involved in my week as every client had at least one file for their paperwork, many with more. I found myself filing away invoices and receipts based on the company providing the purchase and then by date as well as filing some others just by invoice number. It got a bit confusing at times! I also helped with some archiving which was a relatively easy job as it all had to be put on treasury tags ready to be stored away. Although this isn't the most interesting job, I still found it to be a good learning experience for me as this is what you would expect to have to do once working.
As I'm looking towards what I would like to do as a career, this week has proved very useful to me as my plan is to become an accountant. Although I haven't been in an accountancy practice for the last week, I still feel that this week has been very important to my development to follow this path as I have learnt about some of the processes that take place before the accountant receives the accounts therefore deepening my understanding of what is going on. I also feel that Sandra Silk Bookkeeping is a good place for anyone to carry out their work experience as personally I found everyone to be really welcoming and friendly and always willing to help you when you're unsure as to what you're supposed to be doing. Also, everyone is very willing for you to sit at their computer as they watch you handle the accounts which I found to be a very good way to learn as hands on experience enables a deeper understanding of what is going on.
I have found this experience to be extremely useful and I would highly recommend it to anyone who is considering following the career path of bookkeeping or accountancy.