Top 3!
We have just been voted 3rd in the top 10 bookkeeping blogs in the UK.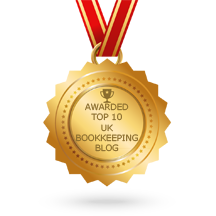 Read our weekly blog to keep up to date with changes in legislation, facts related to finance matters including accounts, payroll and auto enrolment as well as guidance for start ups and those already in business.
Bookkeeping and Payroll for Businesses
Are you looking for a professional, reliable book-keeper?
Sandra Silk Bookkeeping and Business Services provides friendly, efficient and flexible bookkeeping and payroll support to businesses.
We are an award-winning bookkeeping and payroll practice with qualified and experienced bookkeepers and payroll administrators who work with businesses from start-up to £2m+ turnover.
We work with businesses in Wiltshire, Hampshire, Somerset and Dorset as well as further afield from our office at Old Sarum, Salisbury, Wiltshire.
Many of our clients are referred to us by accountants who know they will receive good quality, accurate accounts. We have clients who have been with us for many years who can concentrate on running their business knowing we will remember and meet their deadlines.
Do you want to grow your business?
You need accurate accounts records to aid your business success but whilst you are good at what you do often the paperwork slides down your priority list as it is not really the best use of your time. Our bookkeepers love bookkeeping, getting accounts organised and supporting businesses in their growth. With a large client base we have a wide range of experience and will work proactively with you providing you with a bespoke service to suit you. You will have a dedicated bookkeeper who will take responsibility for your accounts and ensure you are receiving the information you need.
If you want someone to take control of your accounts contact us NOW. We will guarantee you peace of mind leaving you more time to do what you are good at.
Read more about the bookkeeping and accounts services we can provide to you.......
Do you need to run a payroll but don't know how?
Whether you have one employee or 50 employees you will need to process their pay and submit the information to HM Revenue & Customs ensuring you meet their deadlines and are complying with legislation.
Our award-winning payroll professionals are payroll experts who will take away the worry and will deal with HMRC on your behalf.
Our payroll services are used by businesses in Wiltshire, Hampshire, Somerset, Dorset and Surrey but it doesn't matter where you are based as all our payroll services are provided remotely.
Read more about the payroll service we can offer you........
Is Pension Auto-Enrolment on the horizon for your business or just around the corner?
Our pension auto enrolment administration service will ensure you meet your employer obligations and avoid hefty fines for non compliance. We will give you information on the most cost effective schemes for small employers, you choose the scheme you would like and we will do the rest allowing you to carry on running your business. Wherever you are in the UK we can help you.
Read more about Pension Auto-Enrolment and search our blog about auto enrolment for up to date information.
Would you like to be able to use Sage Accounts or Xero in your business?
Sandra Silk Bookkeeping and Business Services provides one to one training on Sage Accounts software at your premises using your own paperwork so you can improve the Sage skills needed for your business.
We also provide Xero training with one of our Xero Certified Advisors at our offices and can set up your accounts on Xero to get you off to a good start.
Read more about the training sessions we provide.....
Do you just need some guidance?
New and start-up business owners have lots of questions! Sandra Silk Bookkeeping and Business Services offer one to one sessions to help you get on the right path from the start. Find out more about our support sessions.