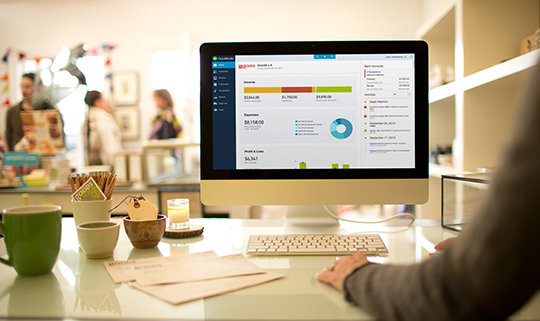 We are always looking for efficient and cost effective ways of helping small local businesses. Whether it's by completing timely and accurate VAT returns, taking the headache out of your payroll, getting your Auto-Enrolment sorted by your staging date or even just a chat about how the business is going over a cup of tea and a biscuit!
We are here to help your business grow, which is why we have partnered with QuickBooks to bring you faster, easier accounts that you can access at your fingertips and won't cost you the earth.
You can access Quickbooks Online anytime anywhere from your iPad, iPhone or Android device. There is a great App too which enables you to quickly create professional branded invoices and quotes as well as enabling you to see what your customers owe you so you can manage your cash flow. Quickbooks Online connects to your bank account keeping your accounts up to date with the latest transactions - all you need to do is allocate them and you will have up to date and meaningful reports.
Quickbooks Online has a great dashboard and good reporting which is easily adaptable to your business reporting needs.
As a Silver Partner and with Quickbooks certified ProAdvisors we can provide you with set up, training and ongoing bookkeeping support to enable your accounts to be up to date and producing meaningful reports to help your business grow. If you are already using Quickbooks Online but would like some help to use it better we can help you too. And as a partner we are able to give you a good discount on your monthly subscription.
Find out more about how Quickbooks and Sandra Silk Bookkeeping could benefit your business. Give us a call on 01722 341820 or email us.